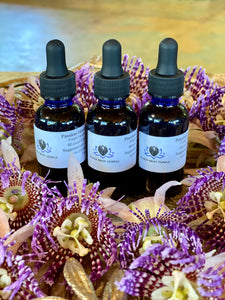 1oz dropper bottle

Ingredients: (Fresh and dried passionflowers (passiflora laurifloria), and 80 proof organic vodka). Flowers are organically grown at the Black Swan Temple Farm on Maui, Hawaii. Organic, biodynamic and made with love!

Passionflower extract—which comes from the passiflora incarnata plant—may work to boost GABA levels in your brain. Since GABA (gamma-aminobutyric acid) is a neurotransmitter that might promote relaxation by slowing down brain cells' this supplement may help address certain symptoms associated with mild anxiety. In addition' passionflower may help you get a good night's sleep because of its mild sedating effect.

Last' passionflower extract also contains flavonoids' which are natural chemicals that could potentially serve as antioxidants. Due to their antioxidant properties' the flavonoids in this product may work to protect your cells from free radical damage.

Suggested use: As a dietary supplement, take 15 drops three (3) times a day in a small amount of water before meals or as suggested by your health practitioner.

WARNING: DO NOT USE IF PREGNANT OR NURSING. DO NOT USE IF SAFETY SEAL IS DAMAGED OR MISSING. SHAKE WELL. KEEP OUT OF REACH OF CHILDREN.

Dietary Specifications: Dairy/ Milk Free
Vegetarian
Soy Free
Sugar Free
Starch Free
Preservative Free
Vegan
Free of Artificial Colors/Flavors
Sodium Free
Delivery Type: Tincture

These statements have not been evaluated by the Food and Drug Administration (FDA). These products are not meant to diagnose' treat or cure any disease or medical condition. Please consult your doctor before starting any exercise or nutritional supplement program or before using these or any product during pregnancy or if you have a serious medical condition.