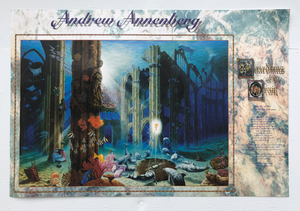 A unique poster by the artist "Andrew Annenberg" called "Guardians of the Grail" from "The Lost World Series".
Commentary by the artist:
"Amidst the very essence of Medieval art and Gothic architecture, the curiously ellusive Grail myth is represented. According to tradition, Arthur was crowned King of Britain and soon after, founded the Circle of the Round Table, its shape reflecting eternal perfection because the table had no beginning and no end. Twelve guardian Dolphins symbolize the Knights - each so great in dignity and power that none could occupy a more escalated seat than another. The Knights fall silent. Trembling just out of reach, the radiant chalice looms above the Knights. The Grail is the symbol of purity, faith, heroism and charity - that ultimate perfection which allures those who struggle, and rewards those who attain. The search is the Divine drama of the Soul, in which the Self as a hero goes through the experiences of the lower life, contending against ignorance and evil and releasing the higher qualities held captive by the lower. The Dolphins surround the sacred table, as 'Guardians of the Grail'."
Height: 24.5 inches
Length: 38 inches